Basic Dyes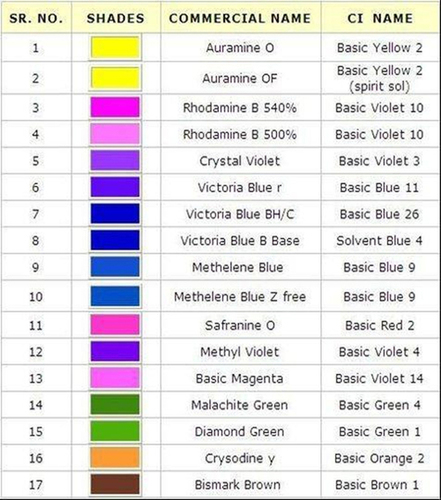 Basic Dyes
Product Description
Basic Dyes are included with alkylamino groups and amino groups. These have accessibility in many colors and function as the highly popular colors of vast use. These dyes are accessible with good chemical properties and are perfect for the coloring of plastics like acrylic. These are also suited for dyeing paints, coatings, & stains, dyeing paper products, dyeing hair, and dyeing industrial products. These colors are accessible with moderate substantivity and are highly economical. Basic Dyes are appreciable for their good tinctorial strength.
Key Points:
Availability in wide shade range.
Exhibit good visibility and brightness.
Work as the great alternative to brilliant synthetic dyes.
Also known as cationic dyes and have high solubility in alcohol.
Basic Dyes
| | | | |
| --- | --- | --- | --- |
| C.I.NAME | C.I. NO | COMMERCIAL NAME | . |
| YELLOW 2 | 41000 | AUROMINE O (REDDER TONE) | 100% |
| YELLOW 2 | 41000 | AUROMINE O (REDDER TONE) | 160% |
| YELLOW 2 | 41000 | AUROMINE O (REDDER TONE) | 200% |
| YELLOW 2 | 41000 | AUROMINE O (REDDER TONE) | 220% |
| | | | |
| ORANGE 1 | 11320 | CRYSODINE R | CONC |
| ORANGE 1 | 11270 | CRYSODINE Y | CONC |
| | | | |
| VIOLET 1 | 42535 | METHYL VIOLET CRYSTALS | CRUDE |
| VIOLET 1 | 42535 | METHYL VIOLET LIQUID | NORMAL |
| VIOLET 1 | 42525 | METHYL VIOLET LIQUID | PURIFIED |
| VIOLET 2 | 42520 | MAJENTA | |
| VIOLET 10 | 45170 | RHODAMINE B 500 | 500% |
| VIOLET 10 | 45170 | RHODAMINE B 540 | 540% |
| | | RHODAMINE B BASE | BASE |
| VIOLET 14 | 42510 | MAJENTA B | |
| | | | |
| BLUE 1 | | | |
| BLUE 9 | 52015 | METHYLENE BLUE 2B | |
| BLUE 26 | 44045 | VICTORIA BLUE B | |
| BLUE 36 | 51004 | ACRYLIC BLUE 3G | ZINC FREE |
| BLUE 36 | 51004 | ACRYLIC BLUE 3G | STD |
| | | | |
| BROWN 4 | 21010 | BISMARK BROWN R | |
| | | | |
| GREEN 1 | 42040 | DIAMOND GREEN | |
| GREEN 4 | 42000 | MALACHITE GREEN | |
| | | | |
| BLACK | | | 100% |
| BLACK | | | CRUDE |
| | | | |
| RED 12 | | ASTRAFOXINE | |